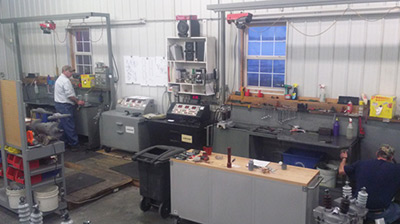 Central Illinois Reclosers Inc. is proud to have over 25 years of experience in oil circuit recloser repair, maintenance, building and rebuilding. Our shop is outfitted with the latest and greatest technologies to ensure superior products; our staff is highly trained and expertly educated; our abilities are second to none; and our focus is always on safety, quality and satisfaction. Today, we're regarded as a foremost authority on all forms of OCR maintenance and oil circuit recloser rebuilding.
Company history
In 1985, Jeff Hulvey began working on oil circuit reclosers.
In 1995, Jeff started training in a machine shop building non-reclosers, and soon became shop supervisor.
In the late 1990s, Jeff divided his time between rebuilding existing units, supervising and focusing on developing a one-on-one relationship with customers. His goal was to personally see that their needs were being met, and it's that personal touch that sets our business apart from others in the field.
In January 2005, Central Illinois Reclosers Inc. was founded!
A focus on quality
No matter the business or the product or the service, it all comes down to quality. People recognize quality for what it is and appreciate the efforts of a business to deliver it. At Central Illinois Reclosers Inc., everything we do is rooted in the highest quality standards, from consulting with our customers to the products that we build. When you choose us for OCR services, you're making a conscious decision to demand excellence.
"As owner of CIR, I stand by my work and my word. I welcome the chance to discuss your recloser problems and maintenance programs, and to explain the many services that CIR offers."
Jeff Huvley
Central Illinois Reclosers Inc.
Owner and Operator
Oil Circuit Reclosers Specialists
Service and Respect; Just what you would expect from a leader.
Contact Central Illinois Reclosers, Inc.
Ph: (618) 580-0265
For your OCR maintenance, repairs, or service needs, please contact:
President: Jeff Hulvey
[email protected]
Exec Secretary: Josh Hulvey
Non-Reclosing Feature (One Shot) Specialist: Jeff Hulvey
VP of Administration:
Chelsie Hulvey