Reconditioned Oil Circuit Reclosers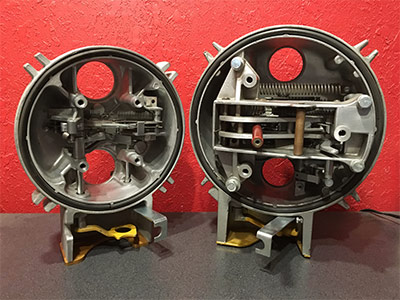 If you're having a problem with cutout fuses continually tripping or issues with temporary faults disrupting power longer than necessary, a recloser is an apt solution. Unfortunately, installing reclosers in rural areas or those with single line feeders can often be cost-prohibitive—the cost of a new recloser isn't always going to pay off in the application.
The solution to these types of situations is making an investment in reconditioned oil circuit reclosers. Reconditioned units from Central Illinois Reclosers Inc. provide you with all of the functionality and peace of mind that new reclosers do, without the cost. Our refurbished oil circuit reclosers are available for roughly half the price of brand new units!
In addition to be a fraction of the cost, reconditioned oil circuit reclosers inspected and restored by our team come with a supreme guarantee of functionality and safety. They'll do their jobs just as well as newly manufactured units, minimizing lineman callouts, service issues and line damages. Moreover, when you purchase from Central Illinois Reclosers Inc., you're getting a quality guarantee that comes with decades of experience and an engrained understanding of oil circuit recloser functionality.
Warranty and service
When you purchase reconditioned oil circuit reclosers from us, you're also going to get one of the best warranties in the industry. We provide extended warranty service and repairs for 3 years after your date of purchase, giving you peace of mind that your investment is well taken care of. If you experience any issues, improper functionality, circuit completion issues or anything else that warrants fixing, we'll do the work for you.
Ask us about refurbished units today
We're always working to expand our stock of refurbished reclosers and take pride in offering our customers a selection of oil-based disruptor units for a wide range of applications. Our stock is continually evolving, so we encourage you to please contact us directly to inquire about what we currently have on hand or our ability to locate and refurbish units for your specific needs.
Our mission is to provide you with refurbished oil circuit reclosers that you can count on and that provide your power lines with a higher standard for safety and reliability. Get in touch with us today to learn more about the many varieties of reconditioned oil circuit reclosers we supply or to inquire about how we can assist you. We can be reached at 618-664-9860.